IFR Practice With Infinite Flight
Editor's note: We are pleased to welcome a guest writer for this week's flight sim update article. Jason Rosewell is a private pilot and owner of a PA-28. Jason works in Digital Marketing for Infinite Flight and is based just north of Toronto, Canada. 
When it comes to instrument flying, pilots have many modern tools at their disposal to learn, practice, and stay proficient. For many weekend warriors, using tools outside the cockpit is a must if they want to keep their heads in the game. Flight simulators are an invaluable tool for instrument-rated pilots and students, but they can be bulky, and the cost can sometimes be prohibitive. This is where a mobile flight simulator like Infinite Flight on your phone or tablet can come in very handy. 
Infinite Flight is an all-in-one flight simulator that uses your phone or tablet's gyroscope and accelerometer to control pitch and roll movements. Worldwide terrain imagery and procedure data are streamed to the device, allowing you to become familiar with procedures before turning the prop.
EFB Connection
Something that will help you right out of the gate is connecting Infinite Flight to your EFB, and it works with ForeFlight and Garmin Pilot. As long as Infinite Flight is on the same local wifi network as the EFB device, you can enable the link in settings and make sure your EFB is ready. ForeFlight will show the simulator as a Device as soon as you start a flight session. To use Garmin Pilot, some flight simulator settings need to be enabled in the Garmin Pilot app. After that, you're good to go. 
While Infinite Flight won't allow you to practice the ins and outs of your aircraft's GPS, it will allow you to stay proficient with your EFB. You can now load flight plans with instrument procedures into the simulator or into your EFB and share them back and forth. For example, if the goal is to fly the RNAV 34 GPS approach into Teterboro, you can load it up in ForeFlight as part of your flight plan, brief the flight, and fire up a session in Infinite Flight. Share the flight plan from ForeFlight to the simulator and fly the approach.
ForeFlight iOS app screenshot illustrating a flight plan with a hold and GPS approach with data being sent from Infinite Flight
Infinite Flight iOS app screenshot of a Cessna 172 flying a published hold and sending data to ForeFlight
Holds, navigation, and experiments
Holds can be a tricky concept for IFR students, and something instrument-rated pilots may not encounter on a regular basis. Staying proficient is a must, and practice (inside or outside the cockpit) makes the proficiency check that much easier. With Infinite Flight, you can choose to hand-fly a hold or build it into your flight plan using your EFB. Practice makes permanent! Use the simulator to practice those hold entries and gain valuable experience, even on the ground.
Depending on your location, knowing how to fly an NDB or VOR approach may be a requirement. Since this isn't something we do every day, turning to the sim for practice can save you a lot of time and money. Navigating using VORs is equally beneficial in the simulator. With Infinite Flight's global navigation database, mastering this skill can be done from the comfort of your living room.
Trying a new feature in your EFB can sometimes be a bit of a daunting task, especially in high-workload environments. At the time of writing, ForeFlight has a new feature in Labs called Taxi Routes, which allows you to tap prompts to create a taxi route in real-time on the diagram. It's an awesome feature that's expanding to more and more airports. I fly at an untowered field in central Ontario, Canada, so using this feature on the fly while talking to ATC isn't appealing in the learning stages. Thanks to my ForeFlight connection with Infinite Flight, and with a little help from LiveATC.net, I can practice using this great feature from the safety of my office.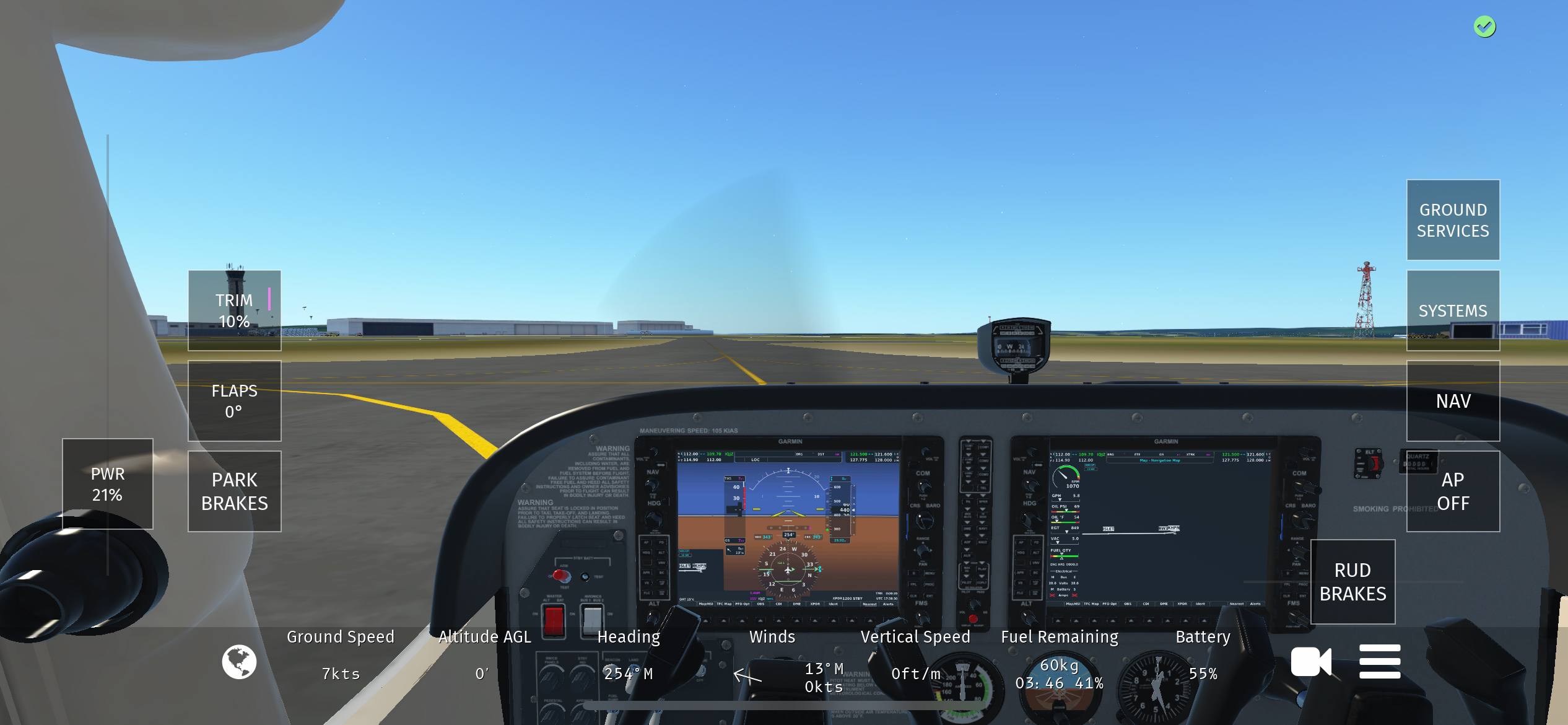 Infinite Flight iOS app screenshot of a Cessna 172 taxiing at White Plains, NY sending data to ForeFlight
ForeFlight iOS app screenshot showing taxi routes and receiving GPS and attitude information from Infinite Flight 
The price is right
Unlike many things in aviation, Infinite Flight won't break the bank. It's a free download in the App Store and Google Play and comes with a selection of aircraft and regions in which to practice. When you're hooked, a USD$9.99/month subscription to Infinite Flight Pro will unlock all aircraft and global flight. If you want to take advantage of Infinite Flight's multiplayer and ATC options, this same subscription provides unlimited access to those as well. 
To try Infinite Flight, head to the App Store or Google Play on your mobile device and download the app for free. A comprehensive user guide and YouTube training videos are available, as well as an active community forum to engage with other users. To learn more about Infinite Flight, visit us at infiniteflight.com. We hope to see you in the Infinite Flight skies soon! ✈
---
About the author
Jason Rosewell is a private pilot and owns a PA-28. Jason works in Digital Marketing for Infinite Flight and is based just north of Toronto, Canada.
https://simulator-update-images.s3.us-east-2.amazonaws.com/wp-content/uploads/2021/02/09172320/Infinite-Flight-Homepage.jpg
900
900
Chris McGonegle
https://simulator-update-images.s3.us-east-2.amazonaws.com/wp-content/uploads/2022/10/20163424/Flight_Sim_Update_logo_text_white_JZ-300x75.png
Chris McGonegle
2023-02-09 15:56:11
2023-03-02 12:48:51
IFR Practice With Infinite Flight